When we think about health, our minds often segregate different aspects of our well-being—body, mind, and oral health—into distinct categories. However, modern medical research continues to unveil the interwoven complexities of our health, revealing surprising connections between seemingly unrelated conditions. One such intriguing relationship is the connection between diabetes and gum health. In this blog, we delve into the fascinating link between these two seemingly disparate realms and discover how they can significantly influence each other.
Diabetes and Gum Health: A Symbiotic Relationship: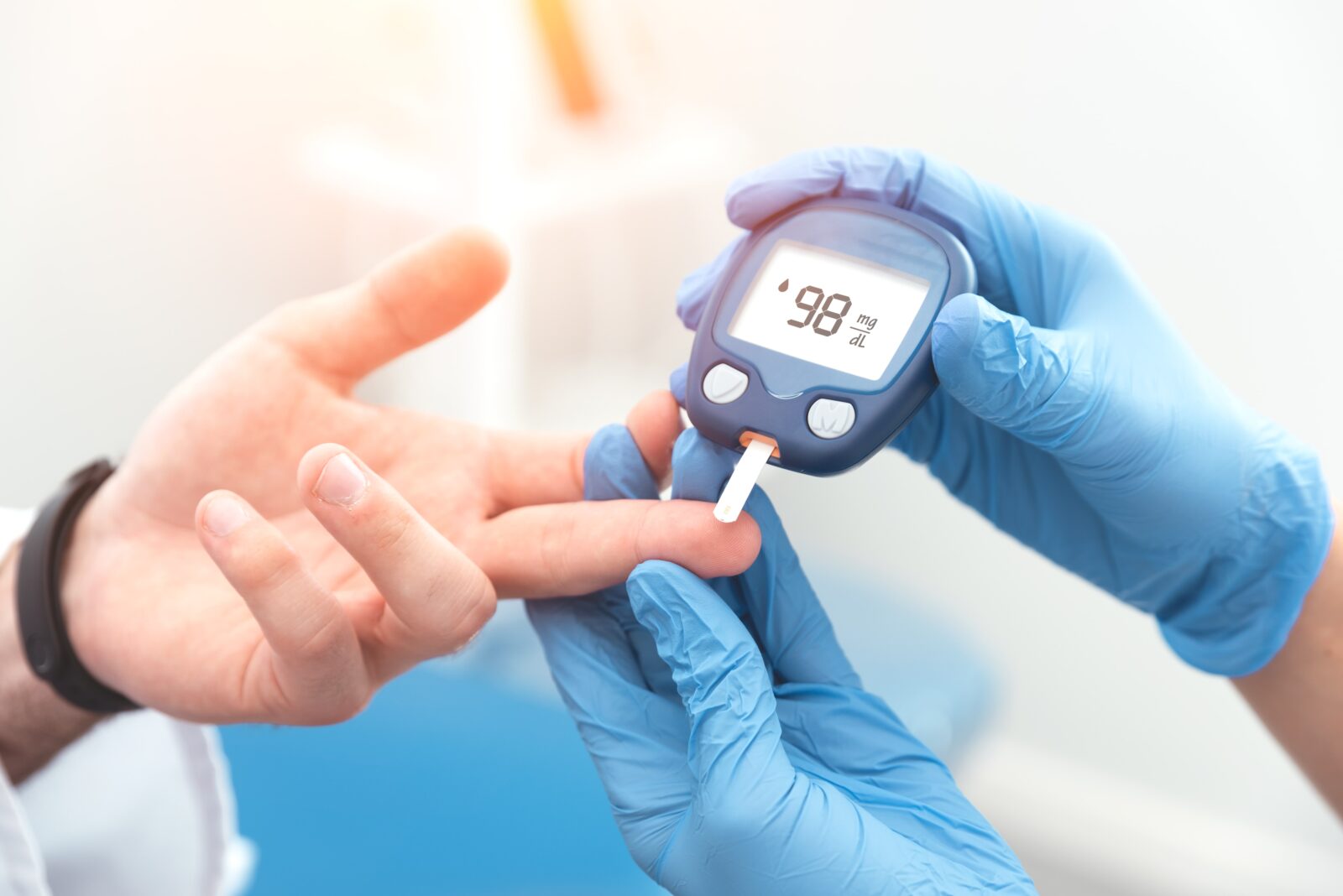 The connection between diabetes and gum health is not just a random coincidence; it's rooted in intricate biological interactions. Diabetes, a chronic metabolic disorder, disrupts the body's ability to regulate blood sugar levels, often leading to elevated glucose levels. This, in turn, affects various bodily systems, including the immune system, circulation, and even oral health.
When it comes to oral health, diabetes can increase the risk of gum disease. This is because diabetes leads to elevated blood sugar levels and compromised immune response. Elevated glucose levels in the mouth promote bacterial growth, leading to inflammation and the onset of gum disease.
Simultaneously, gum disease triggers an immune response that can exacerbate insulin resistance, making blood sugar control more challenging for individuals with diabetes. This bidirectional interaction creates a cycle where diabetes compromises gum health, and gum disease further complicates diabetes management.
Recognizing Gum Disease:
Both people with and without diabetes should know how to recognize the signs of gum disease in order to maintain their oral health. Recognizing gum disease involves paying attention to various signs and symptoms that indicate potential oral health issues. Here are some common indicators that you might have gum disease: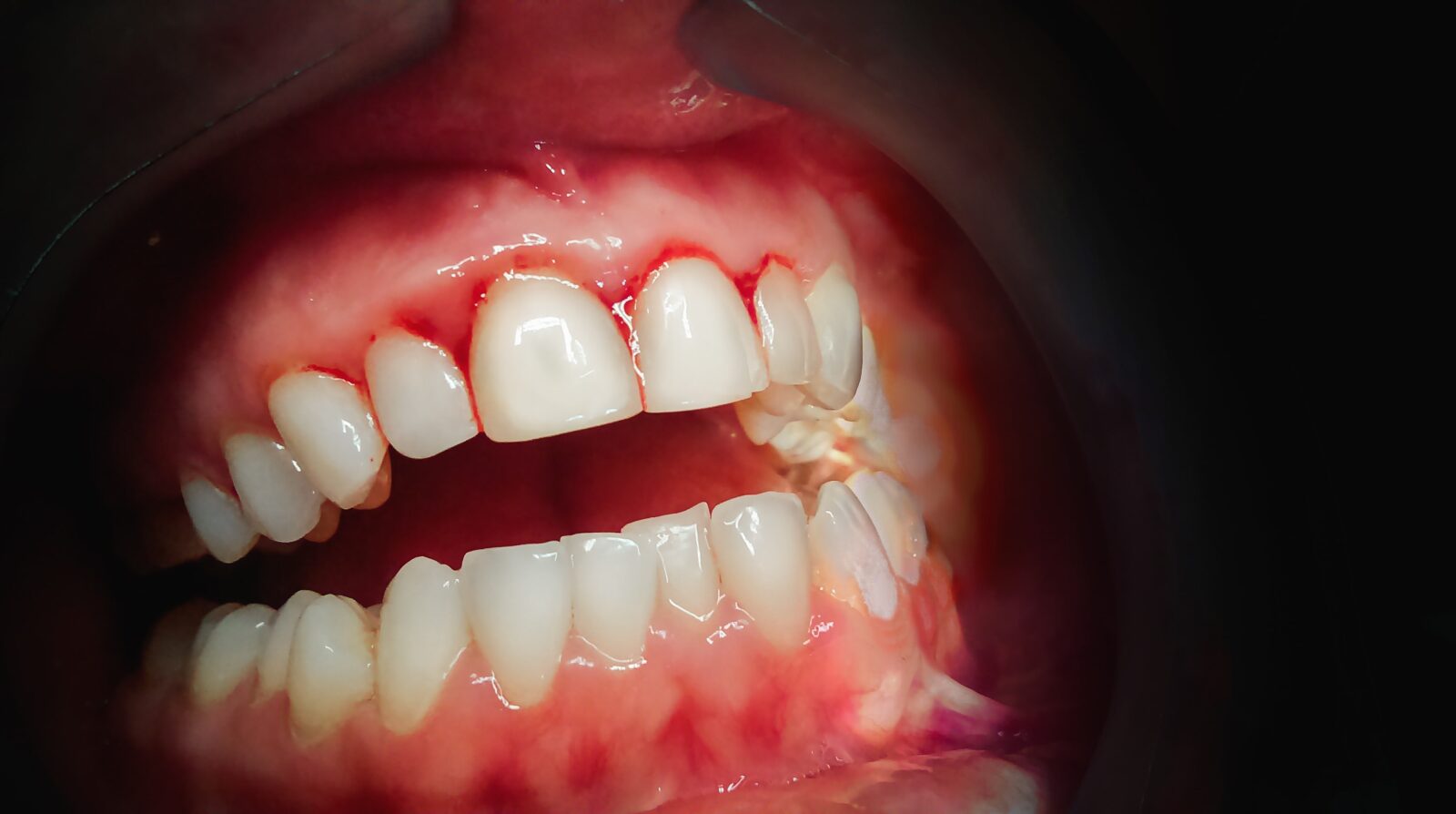 Gum Redness and Swelling: Healthy gums are usually pale pink and firm. If your gums appear red, swollen, or puffy, it could be a sign of gum inflammation, an early stage of gum disease known as gingivitis.
Bleeding Gums: Gums that bleed when you brush, floss, or eat can indicate gingivitis. Although bleeding might be mild, it should never be ignored, as it's a key sign of gum inflammation.
Persistent Bad Breath: If you have persistent bad breath that doesn't improve with oral hygiene practices or mouthwash, it might be due to the bacteria associated with gum disease.
Receding Gums: If your gums are pulling away from your teeth, exposing the tooth roots, it could be a sign of more advanced gum disease.
Sensitive Teeth: Gum recession can lead to increased tooth sensitivity, especially to hot or cold temperatures.
Loose Teeth: As gum disease progresses, it can damage the supporting structures of your teeth, causing them to become loose.
Changes in Tooth Alignment: Advanced gum disease can affect the alignment and spacing of your teeth.
Pain While Chewing: Discomfort or pain while chewing can indicate gum disease, especially if it's accompanied by other symptoms.
Pus or Discharge: If you notice pus or discharge between your gums and teeth, it's a sign of infection that requires prompt attention.
Changes in Bite: If your bite suddenly feels different, it could be due to changes in your gum health and supporting bone.
If you experience any of these symptoms or have concerns about your gum health, it's important to schedule a dental appointment. Early detection and intervention are key to preventing the progression of gum disease and preserving your oral health. A dental professional can assess your condition, provide an accurate diagnosis, and recommend appropriate treatment to address gum disease and its potential impact on your overall well-being.
How Dentists Diagnose and Treat Gum Disease:
Dentists diagnose and treat gum disease through a combination of visual examinations, probing, and advanced diagnostic tools. Here's how the process typically works:
Diagnosis:
Visual Examination: Dentists assess the color, texture, and appearance of your gums for signs of inflammation, bleeding, and swelling.
Probing: Using a dental instrument, dentists measure the depth of spaces (pockets) between your teeth and gums. Deeper pockets indicate gum disease.
X-rays: X-rays help dentists evaluate the extent of bone loss and assess the overall health of your teeth and supporting structures.
Treatment:
Scaling and Root Planing: This deep cleaning procedure involves removing plaque and tartar from above and below the gumline. The root surfaces are also smoothed to discourage bacterial growth.
Antibiotics: Dentists may prescribe antibiotics, either as oral medication or applied directly to the affected areas, to control bacterial infection.
Periodontal Maintenance: Individuals with advanced gum disease may need ongoing maintenance appointments for thorough cleanings to manage the condition.
Benefits for Diabetes Management:
Effective treatment of gum disease offers several benefits for individuals managing diabetes:
Blood Sugar Control: Treating gum disease helps control inflammation in the oral cavity, which can contribute to improved insulin sensitivity and better blood sugar control in individuals with diabetes.
Reduced Infection Risk: Managing gum disease reduces the presence of harmful bacteria in the mouth, minimizing the risk of infections that could impact overall health, particularly for those with compromised immune systems due to diabetes.
Systemic Inflammation: Addressing gum inflammation can help lower overall inflammation levels in the body, potentially benefiting diabetes management by reducing the burden of chronic inflammation.
Integrated Health Care: Collaborative care between dental and medical professionals ensures that treatments align with diabetes management plans, leading to more coordinated and effective health care.
Improved Quality of Life: Treating gum disease can alleviate discomfort, enhance oral health, and contribute to an improved overall quality of life for individuals managing diabetes.
By addressing gum disease, individuals with diabetes can experience a positive impact on their diabetes management. Regular dental care not only promotes gum health but also supports systemic well-being, reinforcing the importance of a holistic approach to health management. Consult with your healthcare providers to develop a personalized plan that encompasses both diabetes management and oral health care.
In Conclusion:
The connection between diabetes and gum health serves as a powerful reminder of the intricate web of our body's functions. The health of one system can significantly influence another. Recognizing and addressing the connection between diabetes and gum health can lead to better outcomes for both conditions. By embracing a holistic approach to health and staying proactive in managing both diabetes and oral hygiene, individuals can enjoy improved overall well-being and a healthier life.