Your smile is one of your most valuable assets, and maintaining healthy gums is crucial for its overall appearance and well-being. Unfortunately, gum recession can pose a threat to your oral health by exposing the vulnerable roots of your teeth. However, by being aware of the signs and symptoms of gum recession, you can take proactive steps to address the condition and protect your smile. In this blog post, we will delve deeper into gum recession, exploring its causes, common signs, and effective strategies for prevention and treatment.
Understanding Gum Recession: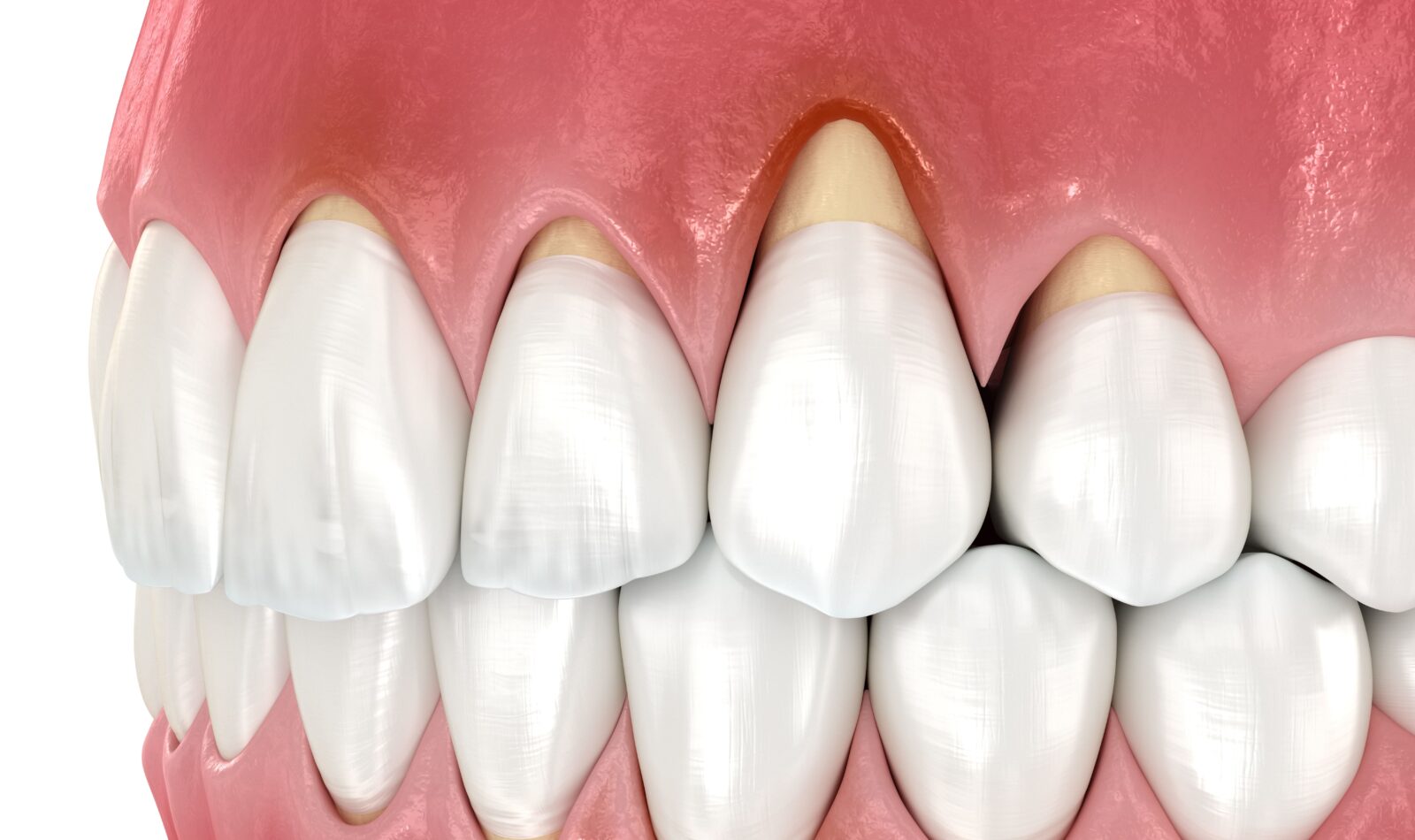 Gum recession refers to the gradual or progressive process in which the gum tissue surrounding the teeth wears away or recedes, leading to the exposure of the tooth roots. As the gums pull back, the previously covered portions of the teeth become visible, and the gap between the tooth and gum line increases. This condition can result in the loss of gum tissue and can affect one or multiple teeth. Gum recession can be caused by factors such as aggressive tooth brushing, poor oral hygiene, gum disease, hormonal changes, genetic predisposition, tobacco use, and teeth grinding. It can lead to tooth sensitivity, increased vulnerability to tooth decay, root decay, and potential tooth loss if left untreated. Early detection and appropriate dental care are essential in managing gum recession and preventing further complications.
Gum recession can be caused by a variety of factors. These include aggressive tooth brushing, inadequate oral hygiene practices, gum disease (periodontal disease), hormonal changes, genetic predisposition, tobacco use, teeth grinding (bruxism), misaligned teeth or bite issues, age, and trauma or injury to the gums. It is worth noting that gum recession can be influenced by a combination of these factors or may be primarily attributed to a specific cause. If you observe signs of gum recession, it is advisable to seek professional dental care for an accurate diagnosis and appropriate treatment.
Recognizing the Signs:
Detecting the early signs of gum recession empowers you to take prompt action and seek appropriate dental care. Here are some common indicators to watch out for:
Tooth Sensitivity: Increased sensitivity to hot or cold temperatures, as well as discomfort while consuming hot or cold foods and beverages, can be a sign of receding gums.
Longer-Looking Teeth: If your teeth appear longer than usual or if you notice a change in your smile's appearance, it could be due to gum recession.
Exposed Tooth Roots: As the gums recede, you may observe a visible yellowish or darker area around the tooth near the gum line, indicating exposed tooth roots.
Gum Inflammation: Swollen, red, or tender gums are often an early sign of gum recession and should not be ignored.
Gum Bleeding: Receding gums are more susceptible to bleeding, especially during brushing or flossing. If you consistently notice blood in your saliva, it may be a sign of gum recession.
Preventing Gum Recession:
Preventing gum recession involves adopting good oral hygiene practices and taking steps to maintain optimal gum health. Here are some effective strategies to help prevent gum recession: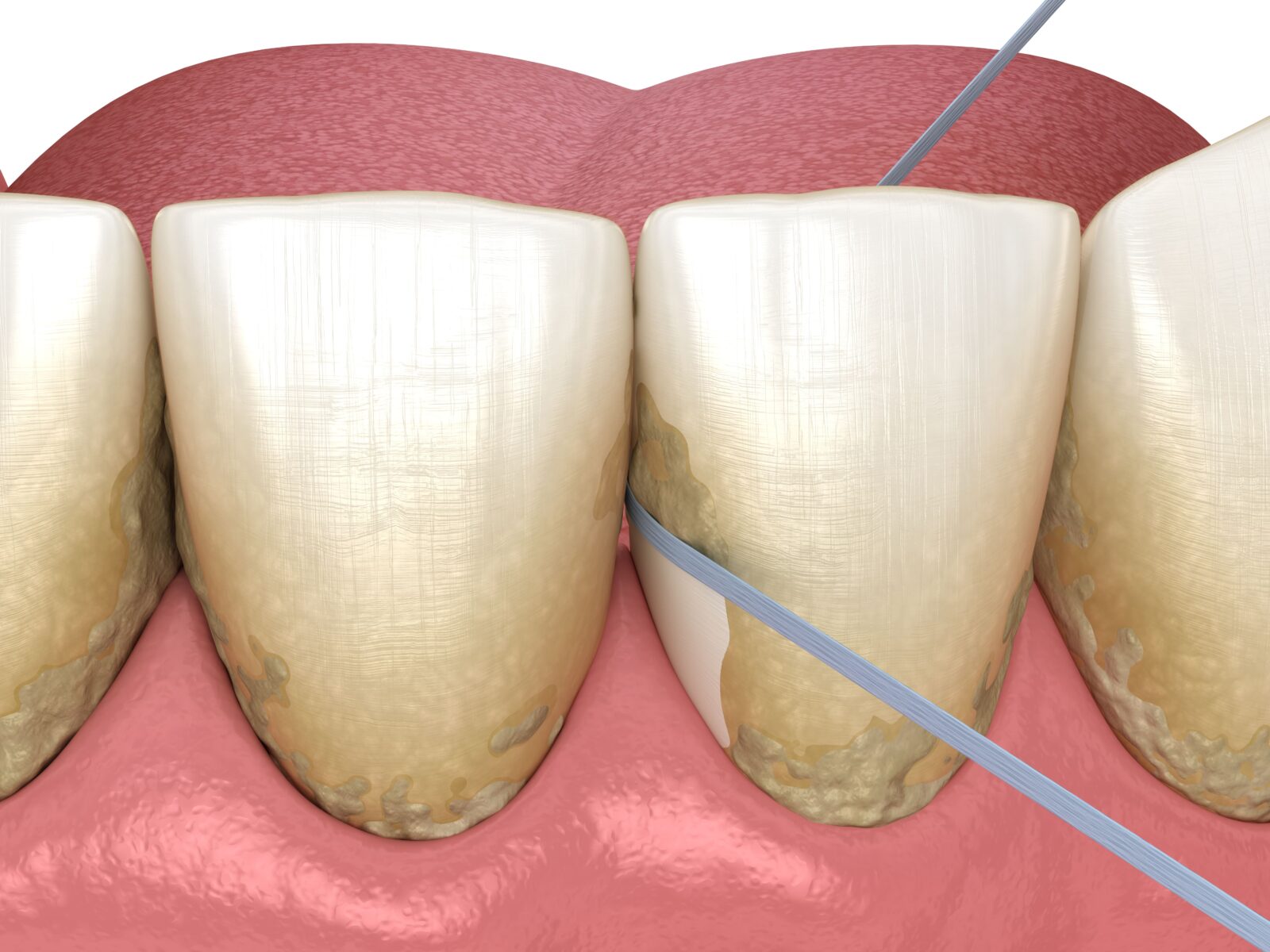 Brush Properly: Use a soft-bristled toothbrush and brush your teeth gently in a circular motion. Avoid aggressive brushing or using a toothbrush with hard bristles, as this can contribute to gum recession.
Floss Daily: Regular flossing helps remove plaque and bacteria from between the teeth and along the gumline. It also helps prevent gum disease, which is a leading cause of gum recession.
Use Mouthwash: Rinse with an antimicrobial mouthwash to further reduce the bacteria in your mouth and maintain gum health. Look for mouthwashes that specifically target gum health or are recommended by your dentist.
Maintain Regular Dental Check-ups: Schedule routine dental visits for professional cleanings and examinations. Regular check-ups allow your dentist to detect early signs of gum recession or gum disease and provide appropriate treatment.
Quit Tobacco Use: Smoking and using tobacco products have a detrimental effect on gum health and can contribute to gum recession. Quitting tobacco use can significantly improve your oral health and reduce the risk of gum recession.
Be Mindful of Teeth Grinding: If you have a habit of grinding or clenching your teeth (bruxism), talk to your dentist about potential treatment options. Teeth grinding can put excessive pressure on the gums and lead to recession.
Address Misaligned Teeth or Bite Issues: If you have misaligned teeth or bite abnormalities, consider orthodontic treatment to correct tooth positioning and relieve excessive forces on the gums.
Maintain a Healthy Lifestyle: Follow a balanced diet, rich in fruits, vegetables, and whole grains, to support overall oral health. Limit sugary foods and beverages, as they can contribute to gum disease and tooth decay.
Manage Stress: Chronic stress can weaken the immune system and increase the risk of gum disease. Practice stress management techniques such as exercise, meditation, or hobbies to promote overall well-being, including gum health.
Protect Your Teeth and Gums: Wear a mouthguard if you engage in sports or activities that carry a risk of dental injury. Avoid using your teeth as tools for opening packages or biting hard objects, as this can damage the gums and teeth.
By incorporating these preventive measures into your daily routine and maintaining regular dental care, you can significantly reduce the risk of gum recession and maintain optimal gum health. Remember, early detection and intervention are key, so seek professional advice if you notice any signs or symptoms of gum recession.
In Conclusion:
Recognizing the signs of gum recession is vital for maintaining optimal oral health. By understanding the causes, signs, and available treatment options, you can take proactive steps to prevent gum recession or address it at an early stage. Remember, regular dental check-ups and maintaining good oral hygiene practices are key to protecting your smile and ensuring the longevity of your teeth. So, stay vigilant, prioritize your oral health, and consult your dentist if you notice any signs of gum recession. Your smile deserves it!